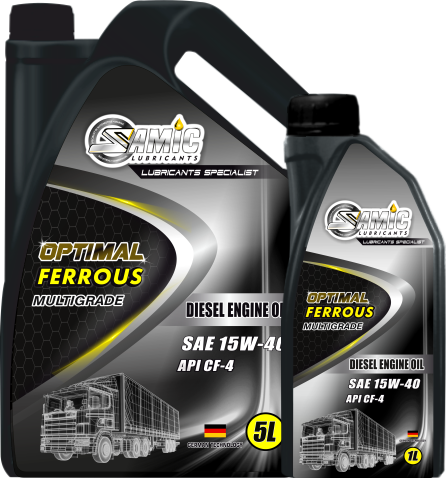 Product Description & Main Application
Samic Optima Ferrous SAE 15W-40 CF-4 diesel engine oil is formulated with high quality base stocks and selected additives to ensure optimum performance and protection for diesel engines requiring an API CF-4 specification. Suitable for diesel engines for both turbocharged and normally aspirated engines operating under severe service conditions in all seasons.
Product Description & Specifications
Performance & Customer Benefits
Good oxidation & thermal stability reduces sludge build up and keeps the engine cleaner.
Optimum wear protection to extend engine efficiency and service life.
Improved fuel economy, due to high fluidity at low temperatures.
Reduced oil consumption at high operating engine temperatures.
Improved resistance to deposit formation keeps engine clean to give your vehicle maximum power under extreme operating conditions.
Optimum TBN reserves provide improved acid neutralization and corrosion protection, especially in old heavy duty diesel engines.
Specifications & Recommendations
Samic Optima Ferrous SAE 15W-40 meets or exceeds following International and Builder specifications:
API CF-4, CF, SJ
ACEA E2
MTU OIL Category-1
MAN 270/271
VOLVO VDS
Deutz DQC –I-05
MB 228.0/1
| | | | |
| --- | --- | --- | --- |
| Typical Physical Characteristics Samic Optima Ferrous SAE | Test Method | Units | 15W-40 |
| Density @ 15 0C | ASTM D 4052 | gm/cc | 0.884 |
| Viscosity @ 100 0C | ASTM D 445 | cSt | 15.4 |
| Viscosity @ 40 0C | ASTM D 445 | cSt | 120 |
| Viscosity Index | ASTM D 2270 | – | 134 |
| Pour Point | ASTM D 97 | °C | -30 |
| Flash Point (COC) | ASTM D 92 | °C | 230 |
| Total Base Number | ASTM D 2896 | mg KOH/g | 8.0 |
| CCS Viscosity | ASTM D 5293 | cP | 6000 @ -20 °C |